Interview with documentary photographer
Binu K Varghese
Each portrait depicts a varied character that silently echoes their stories.
Interviewed by Debarshi Das
Photographs by Binu K Varghese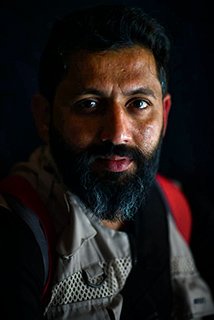 Binu K Varghese
Binu is a travel photographer based in Dubai, hailing from Kerala, India. Travel different places around the globe to experience its unique cultures and scenic beauty is his passion. He believes that one of the best things about being a travel photographer is to connect with people, learn their habitats and lifestyles. Recently he is working on "Life in Frames" project which consists some of his personal favorite portraits of people which he has taken during his journeys. Each portrait depicts a varied character that silently echoes their stories. Binu tries to reflect real life and its emotions through his portraits. He loves to keep things simple in life which is visible through his photographs. Photography has become the oxygen of his life which helps him to keep moving forward.
In this interview for Exposure, Binu talks to our editor Debarshi about his journey of photography.
1. Debrief us about your extraordinary journey of photography.
I love to travel a lot. Earlier my travel journey was without any camera or mobile phone. Later my love of travelling led me to photography. What really got me into Travel Photography was when I got a chance to travel for a photography workshop tour led by a Travel & Portrait photographer, Mr. Subodh Shetty. Then I felt myself highly influenced by the seriousness of photography.
I saw my interest was growing significantly for photographing people, it has kept my interest till today. I love to document some of the less known rituals, cultures and traditions which are fading off with time. I would rather describe my work as a travel documentarian specializing mainly on people with their ancient culture and traditions.
2. What power do you think a photographer carries within? What change can it bring in the society through this powerful tool?
A photographer carries the power to freeze today for the future. Photography is a powerful tool in the conservation of culture and preservation of traditions. I believe photography plays a crucial role in cultural revitalization. I see my role trying to help and preserve what is alive today from ancient cultures for future generations.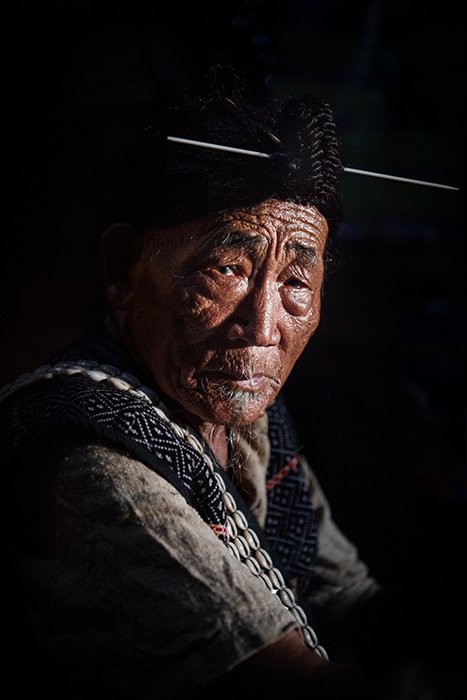 3. Since most of your images reflect rituals, how do you approach people during any rituals? I mean, do you prefer to talk with your subject or just shoot?
It's my passion to capture the rituals, habits & traditions of vanishing cultures. My way of approaching is very simple. Firstly, to be a part of the ritual, try to feel the environment and connect with the people. Secondly, seek permission, asking or gesture to see if I could take their picture, and shoot without disturbing their proceedings holding up my camera with a smile.
4. You are working on a project 'Life in Frames', can you please highlight your thought process on this?
'Life in Frames' is about portraits. It consists some of my personal favorite shots of people I have taken during all my journeys. Each face depicts a varied character that silently echoes their stories. As I photograph people, I know I may never see them again, so I capture their faces to show one's character, their mode of life, the places they belong to or the rituals they are part of. Travel is all about connecting with people.
5. So, this is basically a single photograph for each story. What do you think a single photograph can make a huge impact on the viewers' mind or you believe in photo series to tell your story?
It depends on the situation and the kind of event covered. Like on my first trip to Varanasi, one single picture of the feet of a man on the pyre created a huge buzz among people. Most people liked it, and a few criticized it. But my recent trip to Madurai for covering the Kulasai Dassara, required a series of photographs as there was a variety of mythological and non-mythological characters in the celebration.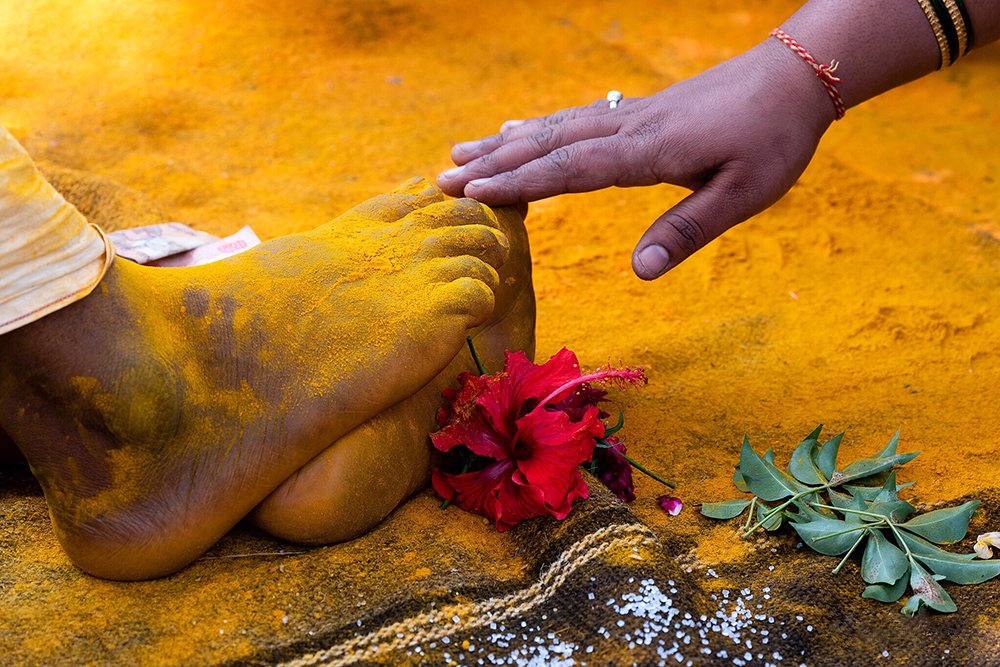 6. Equipment plays an important part in every genre of photography; how much truth prevails in this statement?
Having the right gear at the right moment definitely matters. One should think well and choose the right gear while investing. Your gear should perform well under extreme & challenging conditions. Lack of equipment should never stop you from moving out and making some good photos. Besides learning one should also not scoff at those who know that having the right tool is often critical to moving their work to the next level.
7. What equipment are you currently using? Is there any particular reason that you prefer that brand? Is brand really matters?
I am a Nikon user. Initially, I was shooting with a Nikon D7100, then with D750 and now I upgraded to Nikon Z6, with Nikon 24-70mm F2.8 and Nikon 70-200mm F2.8. Nowadays I also use my mobile phone camera to capture wherever I'm not able to use my DSLR.There are plenty of good brands, but Nikon is the brand I personally like. Some of the main reasons to use Nikon are its ergonomics, low light performance, quick focusing ability of lenses even in low light conditions. I also love its menu and button layout.
8. Due to easy availability of phone camera and highly globalized DSLR market, young generation has very easy access to this field. Is this affecting the sanctity of photography or improving the aspect of photography?
As Percy W. Harris has aptly said, "Skill in photography is acquired by practice and not by purchase." Knowing what is our area of expertizing in photography and practicing regularly to improve it further will take us to next level. It's not just the eye of the lens that is important but the eye of the photographer behind it. Not all but younger generation is no doubt coming up with new ideas. But if we believe in everything should end in a photograph, it might not work. Quality is important not quantity.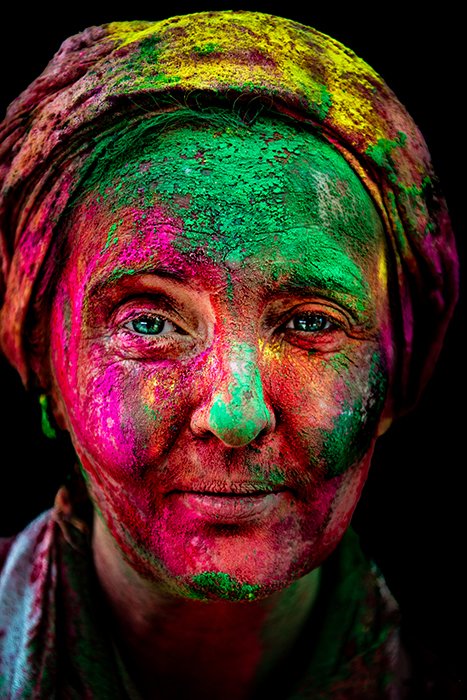 9. What can improve photographical compositions: Books or YouTube? Help us to understand what's your point of view on these two important media of learning?
Books & YouTube could give you ideas on composition but I believe it is the regular practice which could teach us more.
10. Colour or Black & White, how do you choose?
When colour is also a subject and adds to the story of the picture, definitely colour but when something has to be interpreted as deep and intense, the contrast of black and white works.
11. Do you think artificial light is required for your kind of photography? Do you use artificial lights for your projects?
Artificial lights are not necessary. I haven't used artificial light in any of my photographs. I prefer to use available ambient light, mostly natural light.
12. "Previsualizing the frames before arriving at the sites", does this help? If yes, how?
I go with an open mind and shoot as per the available situation. I feel previsualizing the frames will box you up and reduce your chances to explore.
13. It's interesting to see insertion of objects to stage a certain type of image. How do you feel about this practice which has been followed religiously across the globe?
While in case of travel or street photography, I don't like to do so as it spoils the authenticity of the moment and the image. But in occasions like taking portraiture, I request my subjects to pose for formal portraits.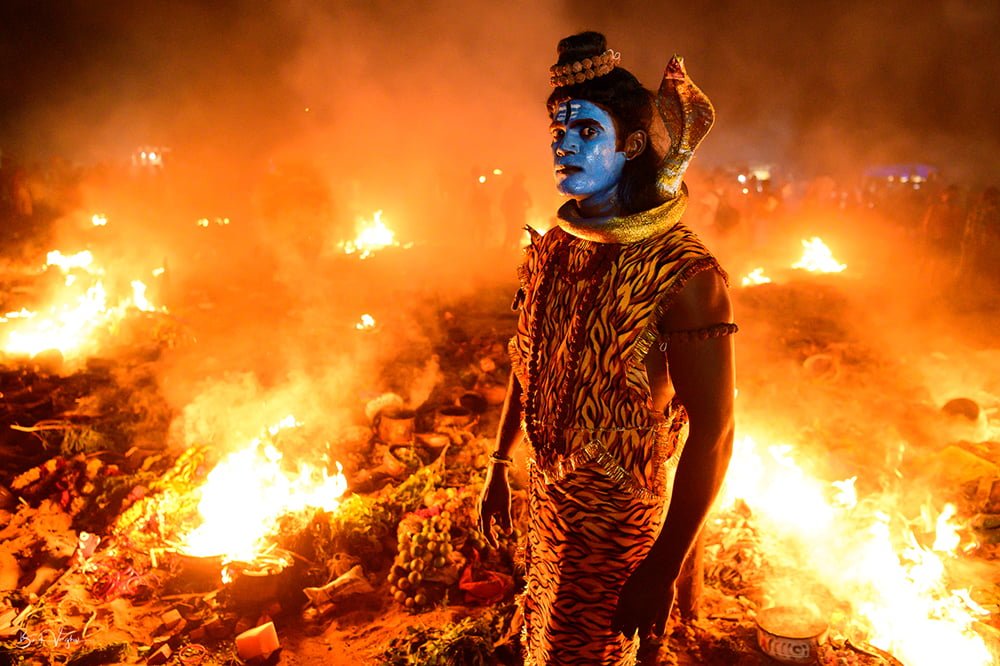 14. Is there a specific moment with any of your assignments that has got permanently imprinted in your heart?
On my first trip to Varanasi, a photograph I clicked completely changed my view towards life and death. Varanasi resonates the tales of the celebration of death. I met many people who were in the last stages of their lives came to Varanasi to spend their final days. This was after their realization that whatever name and fame they had earned in their lives was nothing. And that peace and salvation was dying at Varanasi.
15. Now let's go into social media's aspect of photography. What are your personal thoughts on Instagram as an image-making tool? Is it really helping in extrapolating talents, but we can't deny that it has a significant role in shaping the future of photography?
It's just another platform for showcasing one's work. It does help to find talents to some extent.
16. Every other person does not have the eye of a photographer. It's our sole responsibility to have a glance of those rare moments and showcase the same to others. In order to do this every photographer should carry some ethics which won't destroy the original story. Do you believe these are being thought and spoken in the world of photography?
Yes absolutely, I agree. This needs to be kept in mind by all photographers because "our images speak more than a thousand words". Always keep it real!
17. If any budding photographer ask you, "How can I make my frame stand out of the crowd?" What advice would you give them?
I would say, "You stand out of the crowd and see your subject in your own perspective". It simply means that don't try to copy someone else's work. To find the best photos you need to walk around a lot, viewing the scene from all angles, comparing the shots from different viewpoints and in conjunction with available image elements that may enhance the scene. Think simple and try to be innovative in every shot.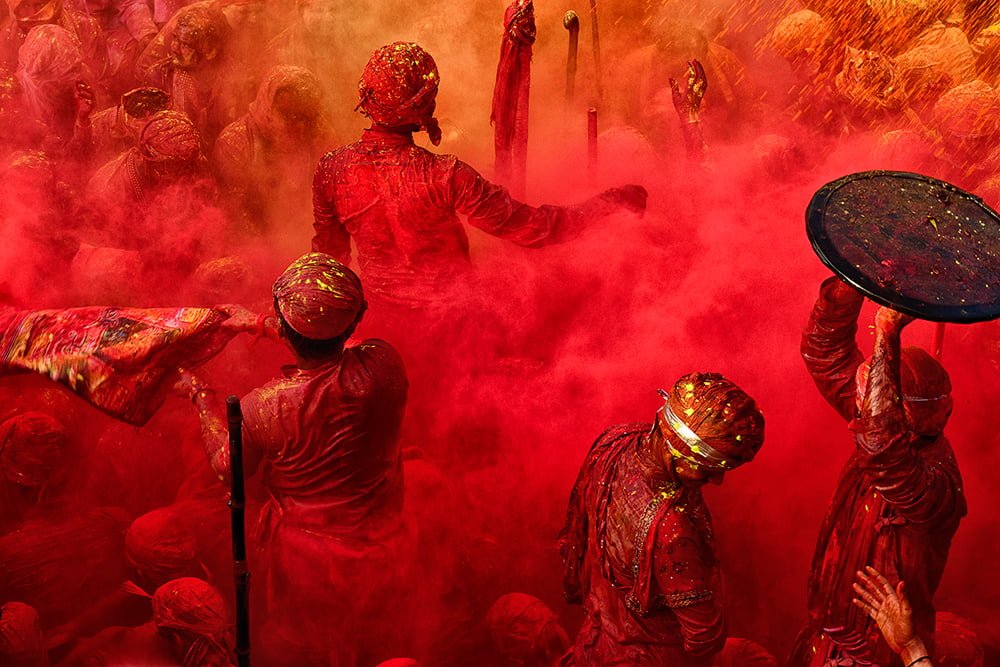 18. Since you have already told us about your extraordinary journey, what suggestive measures do you want the next generation to take in this field?
All I would say from my personal experience is having a mentor could be beneficial. It doesn't matter if you are an amateur or a hobbyist photographer who wishes to make significant improvements or maybe even go professional. Keep your ego away. Firstly, agree to the fact that you know less. If you wish to be like the one you admire, be ready to ask your questions, be ready to learn. Keep shooting. If you shoot more, you'll learn what to include and what to avoid from a frame to make a photo better, and will get better as you go. The more you shoot, the more you'll figure out your style and what works for you. Eliminate the bad or mediocre photos before you publish them. Shoot a lot and only show the best. Don't go after the fame on social media, instead get your picture reviewed by a professional or a mentor.
19 Let's wind up with some personal information:
Birthday: May 6, 1975
If not photography, then what?  A traveler.
Favourite photographer(s): Jimmy Nelson, Timothy Allen, Steve McCurry.
Favourite director: Satyajit Ray
Favourite book(s): The Iconic Photographs by Steve McCurry, The life of a photograph by Sam Abel.
Favourite gear of photography: Nikon D5 with Nikon 24-70, f2.8
Dream destination(s) for shoot: Any Himalayan Valley.